Sauerbraten has over 10 years of competitive history to its name. The list below contains results from most, but not all, of the various leagues run during that time.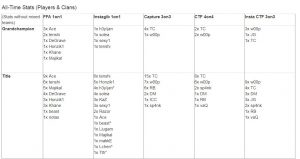 ---
PSL ran for about 3 years, administrated and organized primarily by oo|shmutz. It was the first Sauerbraten tournament in history, and the longest running. PSL laid the groundwork for future leagues with the allvall qualifier format, best of three title matches, and, in the later stages, public polls to decide which maps were played.
---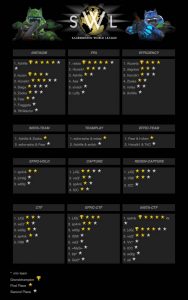 SWL ran for about 2 years, administrated and organized by Achille|sp4nk|, with technical assistance from Markku and Pisto. Also of note was the first and last nations cup, which was won by Germany, and the SWL insta and effic ladders, won by notas and Acuerta respectively.
---
SDMC was a brief series of tournaments run by the Dangerous Monkeys clan. It featured a wide variety of modes and was lauded for its immediacy, smooth administration, and raw fun.
---
---
DKSC is one of the younger tournaments in Sauerbraten, yet it currently is one of the most frequently organized ones.
---
Another active and ambitious tournament, SSL, has been founded in January and had its first event in February 2015.
---
A Flagrun tournament, which took place the first time in August 2015.
---
A short set of tournaments organized by Frosty and pisto in the spring of 2016.
---
The !mpressive Sauer League was a handful of tournaments that ran early in the spring of 2017 by Obstriegel.
---
Miscellaneous Tournaments
A table with winners from tournaments that were run without an official organization, from 2015-2018.
---
The current regularly scheduled tournaments organization hosted by Frosty and Origin.
---
The current regularly scheduled tournaments